As a homeowner, you may want to consider using the equity in your home to update and remodel. You can talk to the local experts at Ideal Home Loans about mortgage rates in Colorado.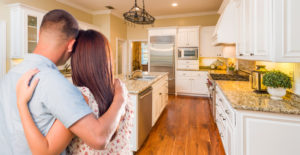 Considering that completely new and original ideas are born rarely, many of the visible trends this year, related to kitchen remodeling, have been reinterpretations of those who dictated the trends during previous seasons. Things will not be very different in 2018 either.
Here are the main trends announced for next year:
Gray represents the color of the minimalist style and it will continue to infiltrate the homes of many of us, dominating even when it comes to kitchen decoration, in the form of finishes, as well as furniture and household appliances.
They bring an interesting bit of aesthetic brutality. A brick wall, a countertop made of stainless steel or polished concrete, a structured lighting object or a metallic lamp, are just a few options that you can consider for next year.
Combinations of materials in the composition of kitchen countertops
If you are about to change your old furniture with a new one and you really want to make sure that your kitchen is in trend, make sure you decorate it with countertops made from two- textures with different looks. Wood and stone, polished wood and concrete, quartz and stainless steel are just some of the variants you can turn to.